On Sunday afternoon, Kevin Gausman became one of six players to be offered a qualifying offer. With tons of uncertainty about the health of the free agent market heading into the offseason, Gausman's offer was a bit of a surprise to see. To his credit, he put together a phenomenal year for the Giants, posting the lowest FIP of his career in 2020. But he's also only a year removed from being designated for assignment by the Braves in August of 2019.
On Monday, Jay Jaffe reviewed all six of the QOs offered this year. He concluded that Gausman and Marcus Stroman were the two players who faced a particularly difficult decision about whether or not to accept the offer and return to their previous teams. Stroman's decision is a little more complicated since he opted out of the 2020 season and last took the mound in 2019. Gausman made 10 starts and two relief appearances in 2020 and made a compelling case that he's one of the top starting pitching options on the market this offseason. Craig Edwards ranked him the fifth-best starting pitching among this year's free agent crop.
Gausman's big year was a welcome development after struggling to put everything together in Baltimore for much of his career. The former first-round draft pick was a hair better than league average by park- and league-adjusted ERA and FIP during his time with the Orioles. But he never really lived up to his pedigree, and he was traded to the Braves at the 2018 trade deadline. He was excellent in Atlanta for the remainder of that season season but really struggled in early 2019, leading to his DFA in August. He was picked up by the Reds and moved to the bullpen, where his stuff played up in short outings.
The Giants signed him to a one-year, $9 million contract, and many of the adjustments he made in Atlanta and Cincinnati bore fruit in San Francisco. After being traded away from the Orioles, he changed his pitch mix to rely heavily on two pitches, his four-seam fastball and his nasty splitter.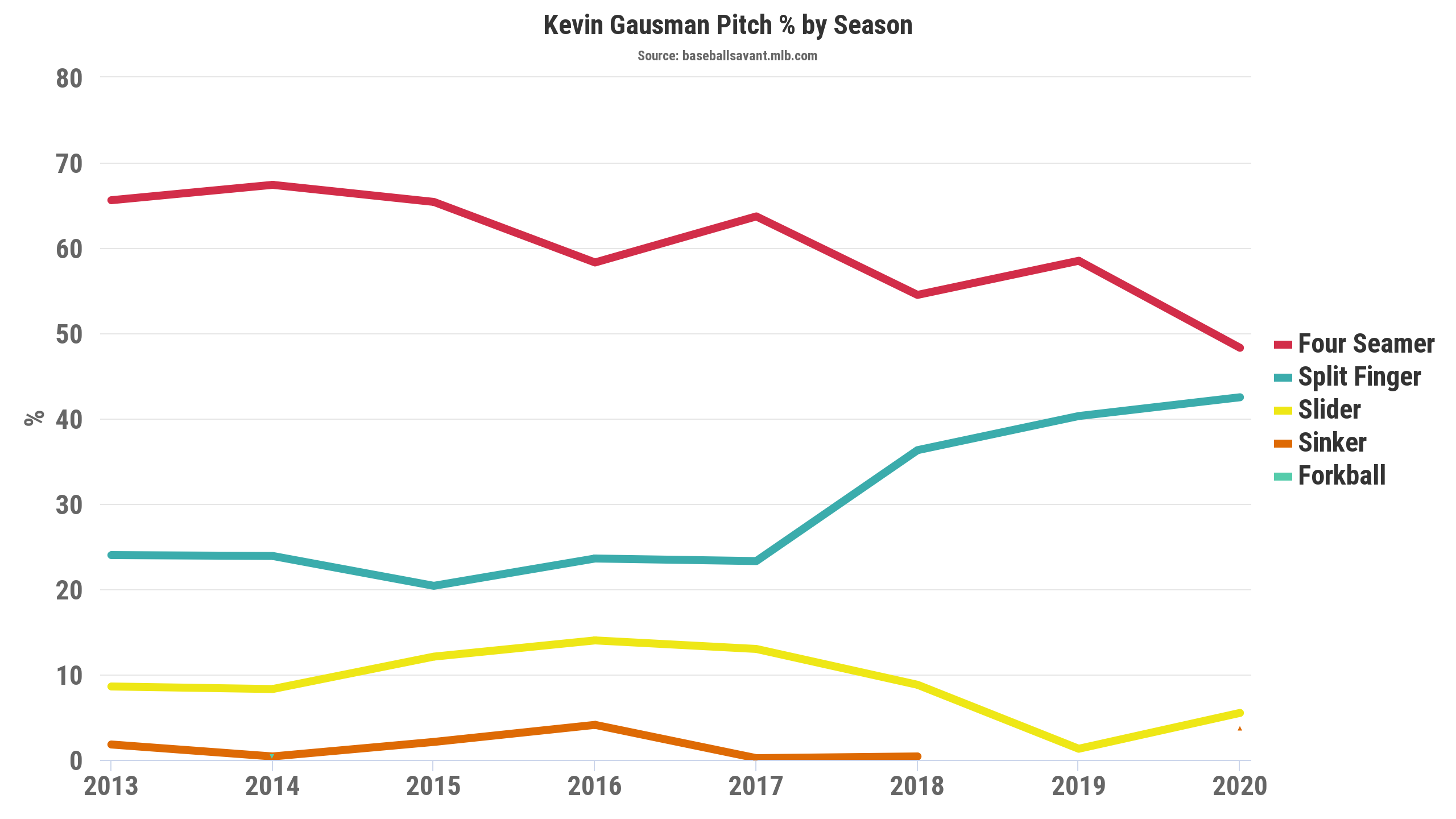 His splitter has always been a good pitch for him, but it's notoriously difficult to throw and can lose its effectiveness if he loses his feel for it. But he's generated a 42.8% whiff rate with the pitch during his career, so using it more often was bound to help him earn more strikeouts. He didn't see much of an effect in late 2018, but in 2019 he posted the highest strikeout rate of his career, only to be topped again this season. Opposing batters whiffed on 45.7% of their swings against his splitter this year and collected just 10 hits off the pitch.
His fastball also saw some improvement that contributed to his success. After two years of diminished velocity, his heater once again averaged over 95 mph.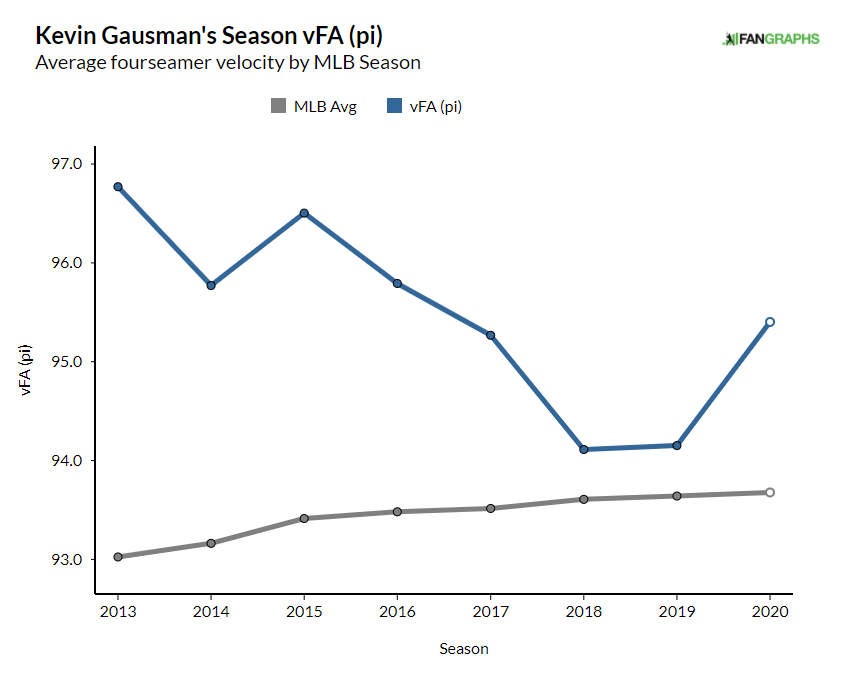 Along with the added velocity came a higher average spin rate. Considering spin and velocity are related, he likely didn't make any physical changes to how he threw his fastball and instead simply regained the velocity he had earlier in his career and the higher spin rate followed. But the results were greatly improved, as his whiff rate on his fastball jumped up to 24.8%, easily the highest of his career.
Not only did he enjoy improved results on his individual pitches, the way he used them also took a turn for the better. All those additional whiffs via his splitter and fastball came with his highest rate of pitches thrown in the strike zone of his career. He was challenging batters more often and they were coming up empty. His chase rate fell from a career-high in 2019, but when batters did offer at his pitches thrown outside the zone, they had an incredibly difficult time making contact. His 47.6% O-Contact rate in 2020 was a 16-point drop from his career rate, easily a personal best, and the third-lowest O-Contact rate among all qualified starters.
Accepting the QO would be a one-year bet on himself that he could replicate his excellent performance again next season. But the QO doesn't give Gausman much long-term security. The worst-case scenario could look something like what happened with Jake Odorizzi in 2020. Odorizzi accepted the Twins QO after a phenomenal 2019 season where he posted career-bests in strikeout rate, FIP, and WAR. Unfortunately, he spent nearly the entire 2020 campaign sidelined due to a number of injuries. As a result, he's reentering the free agent market this offseason without a strong case for a long-term contract.
Perhaps Gausman's decision shouldn't be all that difficult. A one-year, $18.9 million contract probably represents a higher average annual value than what he might have commanded on the open market without a QO attached to him. Edwards estimated a $14.0 million AAV for Gausman while the crowd was a little more bearish, estimating a $12.4 million AAV. And with a suppressed market for free agents on the horizon, he might be better off accepting the QO and testing the open market again in 2021.
But there are indications that Gausman and the Giants have mutual interest in negotiating a long-term extension. Andrew Baggarly of The Athletic reported that initial discussions have already occurred and that the QO was a contingency in case they couldn't come to an agreement. This was the same situation José Abreu found himself in last offseason. The White Sox offered him a QO, he accepted, and then they later signed a three-year contract extension that lowered his AAV but also included a signing bonus to compensate for the lower yearly salary. Abreu's extension represents the best-case scenario should Gausman accept his offer.
But what if he wants to test the open market? Declining the QO wouldn't necessarily preclude him from later signing a multi-year contract with the Giants, and it would give him the opportunity to see how other teams value him. Here's a look at the contracts some of Gausman's peers signed over the past few years.
Kevin Gausman Contract Comparisons
*Gausman's WAR pro-rated over 180 IP
These starting pitchers were either offered a QO or they had a season roughly on par with what Gausman accomplished in 2020. The average annual value of these contracts was $19.0 million and the average length of the contract was 3.5 years. Both of those marks would give Gausman long-term security with a yearly salary on par with the value of the QO this year. The worst-case scenario would be a situation like Dallas Keuchel faced after the 2018 season. The draft compensation attached to the QO drove Keuchel's market far below what he was willing to sign for and he ended up sitting out much of the first half of the season before signing with Atlanta in June 2019. But even a contract like the one Alex Cobb signed with Baltimore wouldn't be all that bad for Gausman, particularly considering his rough history prior to this year. Cobb's contract is in the range of what Baggarly estimated for Gausman if he was to hit the open market.
For non-elite free agents who have a QO attached to them, we know the draft compensation drives their potential earnings down. This is what happened with Keuchel and it's likely to happen with Gausman if he declines. Teams are including that lost draft capital in their calculus when offering contracts to these mid-tier free agents with QOs. The Giants don't have to worry about that draft compensation if they re-sign Gausman, putting them in prime position to woo him back with a full-value contract offer.
Accepting the QO wouldn't come risk-free beyond the typical concerns a pitcher faces during the normal wear and tear of a season. There's also no guarantee that Gausman and the Giants can come to an agreement on a multi-year extension. That would force Gausman back onto the open market in 2021 with the looming expiration of the Collective Bargaining Agreement introducing all sorts of uncertainty. Accepting the QO and continuing to negotiate an extension with San Francisco probably mitigates the most risk for Gausman and sets him up with a nice salary for 2021. The long-term security may or may not come, but with all the uncertainty facing baseball in these coming months and years, grabbing what he can now right now might be the best he can hope for.