A new bus gate will prevent cars accessing St Stephen's Green from Lower Leeson Street in Dublin under a plan from the National Transport Authority.
It is part of the Core Bus Corridor project to provide continuous bus lanes and cycleways on 16 radial routes.
The NTA is due to present a plan for a third round of public consultation today and it is understood one major change will be the proposal for a bus gate on St Stephen's Green.
Cars heading into the city will be diverted left to Lower Hatch Street and then onto Earlsfort Terrace to access St Stephen's Green South.
This will allow a designated cycleway and bus lane on that section of Lower Leeson Street into the city.
It is already restricted to public transport bus and cyclists on the outbound section.
The aim of the project, which is part of Bus Connects, is to provide 230km of dedicated bus lanes and 200km of cycle lanes on 16 of the capital's busiest bus corridors.
The original proposal included plans to remove parts of 1,300 front gardens and cut down 1,000 trees along the routes to create space for two-way bus and cycle lanes along with two lanes for cars.
However, after a negative response from many residents' group, there were 13,000 submissions during the first round of consultation, the NTA has proposed more restrictions on cars rather than road widening.
This will be achieved through bus gates, one-way systems and bus priority at traffic lights.
The NTA said the number of trees to be felled had risen to nearly 2,500 when mapping surveys were completed but mature trees will be spared, particularly in areas such as Glasnevin, Rathgar and the city centre.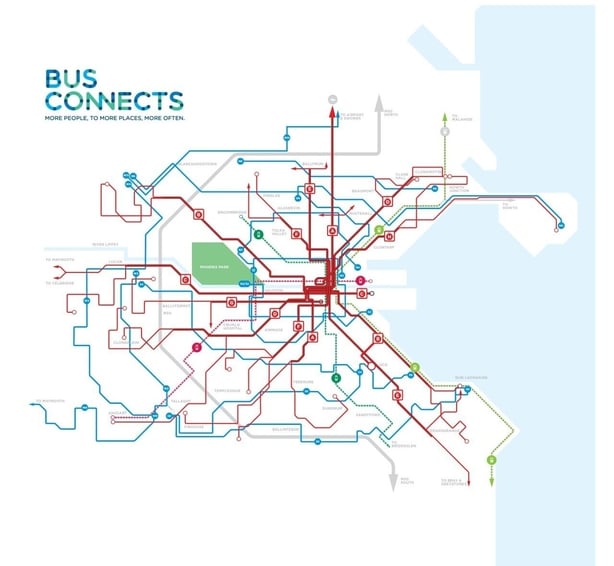 The authority had hoped to have a planning application ready by the end of this year but this has been delayed because of Covid-19 and it is now expected next March.
The bus corridor routes in Dublin which are planned to be completed in stages by 2027 are:

– Clongriffin to city centre

– Swords to city centre

– Ballymun to city centre

– Finglas to Phibsborough

– Blanchardstown to city centre

– Lucan to city centre

– Liffey Valley to city centre

– Clondalkin to Drimnagh

– Greenhills to city centre

– Kimmage to city centre

– Tallaght to Terenure

– Rathfarnham to city centre

– Bray to city centre

– UCD/Ballsbridge to city centre

– Blackrock to Merrion

– Ringsend to city centre
The NTA is using 'virtual rooms' for consultation and these will be going live later today.