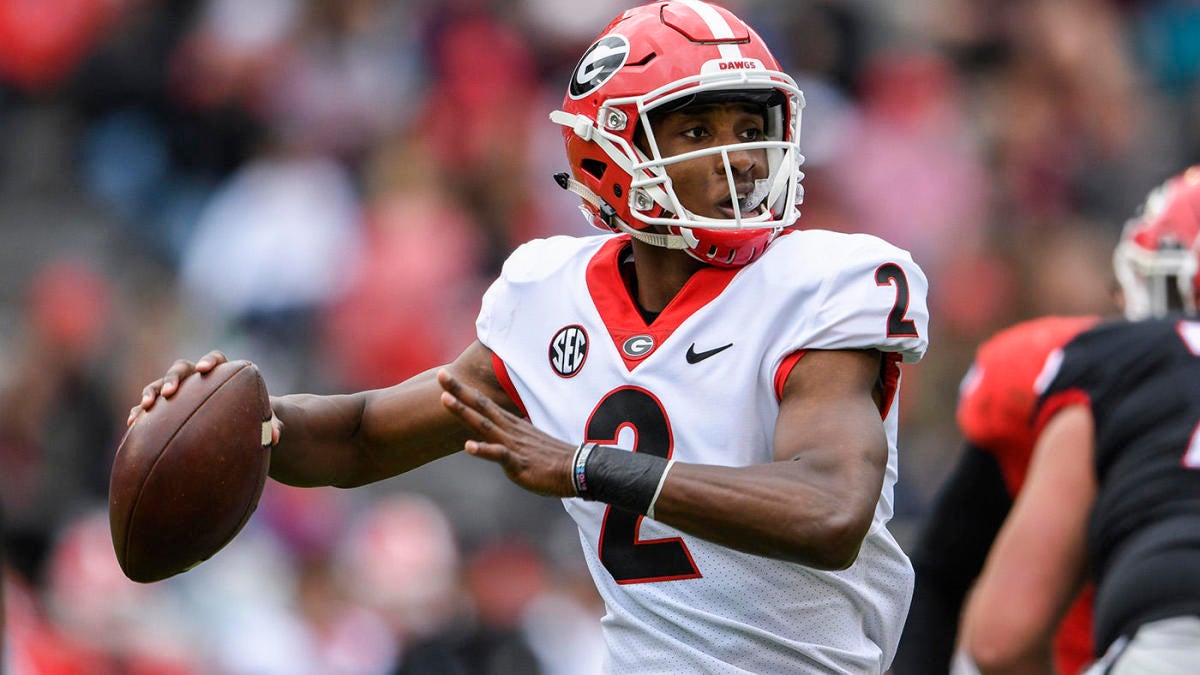 Season Leaders
passing
J. Blackman

198 YD, 1 TD, 1 INT

J. Blackman

198 YD, 1 TD, 1 INT

D. King

469 YD, 4 TDS

D. King

469 YD, 4 TDS

rushing
L. Webb

13 ATT, 39 YD

L. Webb

13 ATT, 39 YD

C. Harris

26 ATT, 268 YD, 3 TDS

C. Harris

26 ATT, 268 YD, 3 TDS

receiving
J. Corbin

8 REC, 55 YD

J. Corbin

8 REC, 55 YD

B. Jordan

10 REC, 171 YD, 2 TDS

B. Jordan

10 REC, 171 YD, 2 TDS

See New Posts
D'Eriq King looked great, picking apart the Florida State defense on a touchdown drive that ends with a Brevin Jordan score. Went 8-for-10 on the drive, found matchup advantages against FSU linebackers and has the Canes on the board early up 7-0
Alabama already rolling early, up 14-0 at Missouri. Najee Harris and Jaylen Waddle already showing their All-American caliber with touchdowns and the Tide do not seem likely to get swept up in the wave of upsets here on this Saturday
Final: No. 4 Georgia 37, Arkansas 10
Georgia fans can take a big exhale. The Bulldogs looked awful early, and QB D'Wan Mathis has plenty to work on. But their defense looked stellar and they nearly covered the spread after trailing at halftime.
Close finish alert!
Insanity. Texas, down 15 points just a couple minutes ago, has roared back to tie Texas Tech with 40 seconds left. Score is 56-56. Game is on Fox, unless your regional station has switched to baseball, in which case the Fox Sport app is your best bet.
Final: No. 15 Oklahoma State 27, West Virginia 13
Oklahoma State fans likely feel pretty meh about the way this season has started. Ugly win vs. Tulsa with QB Spencer Sanders getting injured. Now, today, an ugly win vs. West Virginia in which Chuba Hubbard again struggled to break free. But look at the bright side: Oklahoma lost today and Texas is in danger of going down against Texas Tech. So mediocre as the Cowboys have been, they now arguably sit in the driver's seat in the Big 12.
Final: Cincinnati 24, Army 10
The No. 14 Bearcats survive a gamely effort from No. 22 Army. Hats off to the Black Knights for keeping Cincinnati in check, but Army's bid for a College Football Playoff appearance is going to come up short.
Close finish alert:
Texas gets a field goal to draw within 42-41 against Texas Tech with 10:47 left. Going to be a wild finish in Lubbock
Georgia pulling away?
The Bulldogs probably aren't going to cover that four-touchdown spread. But maybe they're pulling away? Stetson Bennett just found John FitzPatrick for a score to put UGA up 20-10 on Arkansas with 3:20 left in the third quarter.
Update: Yeah, Georgia is getting this thing done now. Eric Stokes picks off Franks and runs it in for a TD. Now 27-10. That's two touchdowns in 27 seconds.
See More
newsybag